These Edinburgh landmarks are a great starting point for anyone looking to plan a trip to the Scottish capital. It, of course, isn't an exhaustive list of what to do and see in the city, but you can see the most popular landmarks and decide if you want to visit them.
It's amazing how many wonderful landmarks a city can have – I've enjoyed putting this list together not least because I have lots of fond memories of school trips to some of these places. I need to revisit some as an adult!
Edinburgh Castle
Holyrood Palace
Scotts Monument
Balmoral Hotel
Calton Hill
Forth Bridges
Greyfriars Bobby Statue
Royal Yacht Britannia
Real Mary King's Close
Princes Street Gardens
Murrayfield
Arthur's Seat
Edinburgh Zoo
Botanical Gardens
Dean Village
Craigmillar Castle
Holyrood parliament
17 Famous Edinburgh Landmarks to check out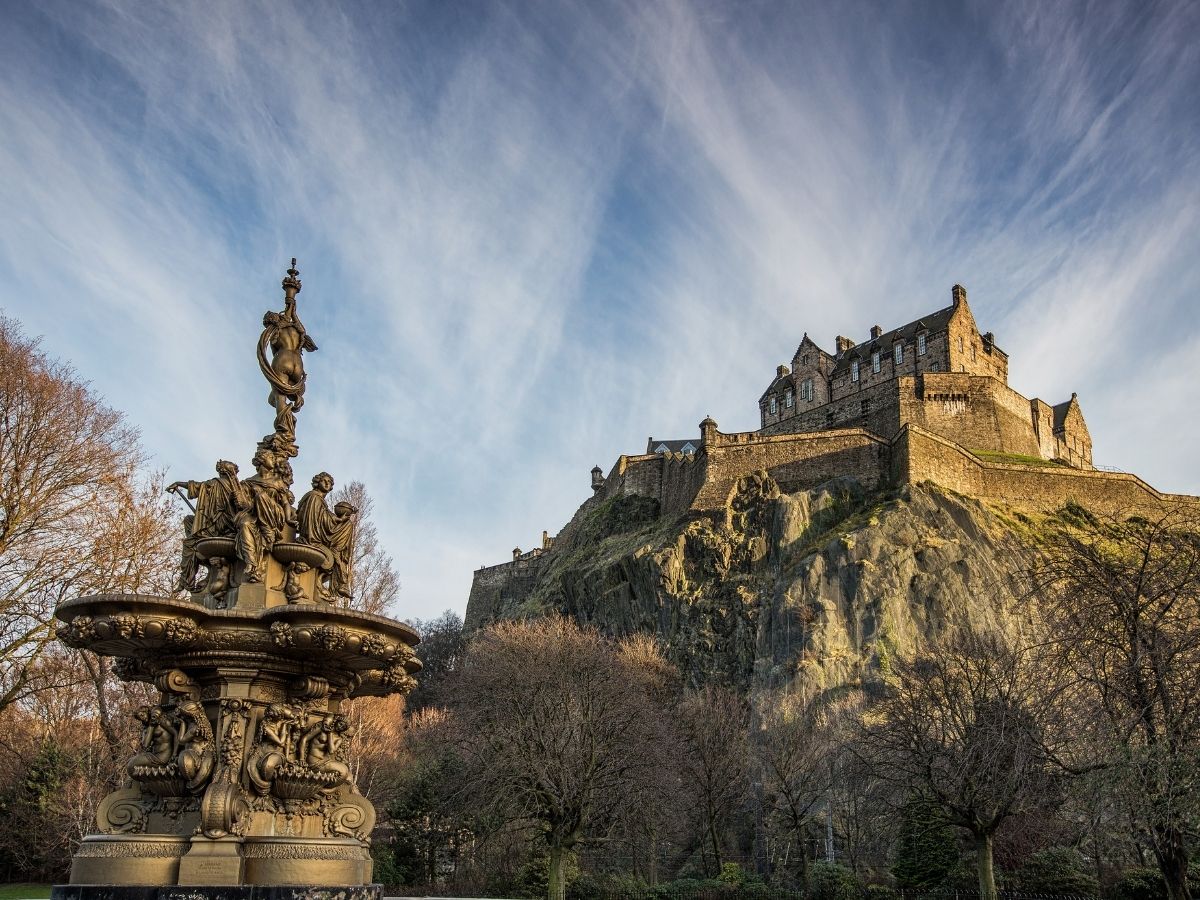 Edinburgh Castle
Location: top of the Royal Mile, Old Town, Edinburgh
The most famous of Edinburgh's landmarks (and also of Scotland's landmarks to be fair!) has to be Edinburgh castle. It's what many people think of when imagining the city and it's top of most people's must see attractions in Edinburgh to tick off.
Edinburgh castle was built on an extinct volcano and it towers above the city – you can see it from all around the walkable city centre (and from these fab hotels too).
Inside you can learn about some of Scotland's military history, see a dog cemetery and watch the 1 o'clock gun being fired!
Holyrood Palace
Location: bottom of the Royal Mile (eastern side)
Many people don't know that the Royal Mile in Edinburgh is flanked by two different royal castles. Edinburgh castle at one end and Holyrood Palace at the other.
Holyrood Palace (or sometimes called the Palace of Holyroodhouse) is actually still a Royal residence and is used by the King when he's visiting Scotland.
Even though it's in use, you can still visit Holyrood Palace both inside and out. There are a number of state rooms that are open and there's the wonderful ruins of Holyrood Abbey to the side of the palace to explore too.
Sat in the shadow of Arthur's Seat it's hard to remember you're in the city centre!
Scott Monument
Location: Middle of Princes Street
Another landmark you may be familiar with in Edinburgh is the tall and imposing Scott's Monument on Princes Street.
I remember being offered a chance to climb to the top as a child but not feeling brave enough!
The monument is dedicated to the writer Sir Walter Scott (who wrote many books – Ivanhoe and Rob Roy are some of the most famous) and you can climb to a few different levels if you're not sure of getting to the top.
You can get some amazing views over towards the Old Town and then you can turn around and see the New Town too.
The Balmoral Hotel
Location: Princes Street, by Waverley Station
The Balmoral is one of those hotels that you just imagine is frequented by stars, royalty an famous people. You're not wrong.
It's an imposing building located bang in the centre of the city, just by the train station and perfect whether you're visiting the New Town, the Old town or exploring both.
You can get amazing views over Princes Street gardens, Scott Monument and towards Edinburgh Castle too.
One of its most famous inhabitants was JK Rowling who famously stayed in the hotel when she finished writing the final Harry Potter book – a far cry from the small cafes she used to write the first ones!
Calton Hill
Location: just east of Waverley Station
Calton Hill was a new one for me and I'd never been in the many years I visited Edinburgh as a child, but we visited later as tourists.
It's a small hill in the east of the city centre, not too far from Waverley Station where you can get amazing city views and also enjoy the many monuments on the hill.
You'll see a greek inspired temple, an observatory and many other monuments here too. If you have a warm and dry day to visit in Edinburgh I recommend taking a picnic and enjoy some people watching!
Forth Bridges
Location: outside of Edinburgh, by the village of South Queensferry
I wondered about including this in a list of Edinburgh's landmarks since it's just outside the city, but they are so synonymous with the city that I had to add them.
There are three bridges that connect Lothian (and the city of Edinburgh) with Fife across the Firth of Forth. The most famous is the rail bridge known simple as the Forth Bridge. It's an instantly recognisable landmark!
There's also the original Forth Road Bridge, which I traveled across so many times as a youngster, and now the newest crossing – the Queensferry Crossing.
You can visit the Forth Bridges easily from Edinburgh on a day trip or as part of explorations over to Fife or further north.
Greyfriars Bobby Statue
Location: Corner of Candlemaker Row and George IV Bridge in Old Town, opposite the National Museum of Scotland
I love the story of Greyfriars Bobby, probably because it was one of our highlights in visiting Edinburgh when my kids were really little.
We read the back story and headed to the Old Town where we found his statue. It's only a small statue of the Skye Terrier but very accessible for kids to enjoy!
While visiting this statue you'll want to head into Greyfriars Kirkyard as well to see Bobby's grave too. The graveyard is an interesting place to visit too, especially if you like history and quirky stories. It's also inspiration for many Harry Potter characters too!
Royal Yacht Britannia
Location: Leith dockside
On the banks of Leith the Royal Yacht Britannia lives out her final days. This was the official yacht that belonged to Queen Elizabeth II that she used throughout her reign.
The boat has been all around the world and was used as a home when the Queen, or other members of the Royal Family needed to travel far afield. If you're watching The Crown as I am you'll see it's present in many of the episodes and the decommissioning of it was a plot line in the most recent series.
You can visit the yacht and see how life was like for the Royals when it was in use. It's a must for anyone interested in more recent Royal history.
Real Mary King's Close
Much of the Old Town of Edinburgh's history is based around the tenements (old tall buildings in the Old Town) and the closes that run between them. There's a lot of stories told of squalor and crime around.
The Real Mary King's Close is an attraction that tells the story of the specific area on the Royal Mile and the people who lived and died in the area.
The guides here will take you back in time with their costumes and tell of murders, plagues and more – it's quite the experience!
Princes Street Gardens
Location: below Edinburgh Castle – runs parallel to Princes Street
This large parkland area beneath the castle is a great place to have a picnic, wander with others or just soak up a bit of peace in the busy city.
The gardens separate the Old Town and the New Town quite neatly and this is because the area used to be a marshy loch area known as Nor Loch. It was drained to make way for the gardens in 1820.
Edinburgh in winter sees the gardens being used for a Winter Wonderland with a Xmas market and much festive goings on!
Murrayfield
Location: Murrayfield area towards the west of the city centre
This stadium is the home of Scotland's National Rugby team but it's also where many large concerts and events take place too.
Scotland is proud of its sporting heritage and Rugby is no different. If you get chance to be in the city when they are playing you could be witness to some amazing scenes from loyal fans.
Arthur's Seat
Location: east of the city, Holyrood Park
Overlooking the city in the east is Arthur's Seat which is a hill that, like Edinburgh Castle, is an extinct volcano. It's thought to have been named after King Arthur (of the legends) but there's some dispute over this.
The hill is easily accessible and a fairly simple climb that many people do to get views towards the Firth of Forth and over the city.
If you're visiting Scotland and don't have time to get out into the Highlands and explore the hills there this could be an excellent alternative!
Edinburgh Zoo
Location: Corstorphine, east of the city centre
Edinburgh Zoo is over 100 years old and their penguin habitats and polar bears have been attracting attention for a long time. I went a lot as a child (school trips!) and we took our kids there a few years ago too – it was just as I'd remembered!
Zoos can be controversial places but Edinburgh has a good reputation for conservation and animal welfare. If you're travelling to Edinburgh with kids and looking for an attraction then you can't go wrong with the zoo.
It's easy to get to even though it's not quite in the centre of the city with buses traveling past the zoo throughout the day (they are even zoo themed – you'll not miss them!)
Royal Botanic Gardens
Location: north of New Town
Another of the many places I visited as a child on a school trip (I'm feeling all nostalgic writing this post!) was the Royal Botanic Gardens.
There's 70 acres of gardens to explore here and whether you just enjoy the atmosphere or you're interested in all the varieties of plants on offer this is a really lovely place to visit.
For anyone visiting Edinburgh on a budget you'll want to keep this attraction in mind as it's free to visit. There's a small charge if you want to visit the greenhouses when they are open though.
Dean Village
Location: Near Stocksbridge, New Town
Dean Village is a landmark that has surged in popularity since the advent of Instagram and Tik Tok. When you visit you can see why – it's a picture perfect area with beautiful buildings surrounding the river.
While it's called a village, the city has grown up around it over the years so it's firmly within the city and only a few minutes walk from Princes Street.
The River Leith flows through the village and you can even walk all the way to Leith if you're feeling energetic!
Don't forget to bring your camera – it's incredibly photogenic!
Craigmillar Castle
Location: South of the city centre
You thought that Edinburgh only had one castle, then I told you about Holyrood Palace and you thought that must be it? Nope! There's another castle in Edinburgh that's worth visiting if you love old ruined places – Craigmillar Castle.
It's very different to the others, medieval and has that classic castle look around it with turrets!
Its history includes Mary, Queen of Scots and she is said to have taken refuge here at one point. The ironic thing is that the owner would be her jailor in the future.
It's an easy one to get to even if you don't have your own car – it's very near the hospital and as such there's a lot of public transport through the day that goes nearby.
Scottish Parliament building
Location: End of the Royal Mile, by Holyrood Palace
Most of the landmarks on this page are fairly old but the Scottish Parliament Building is one of the newest and it's a much more modern piece of architecture than many places in Edinburgh.
It's home to Scotland's devolved government and parliament business goes on here. It's a little different to the grandeur of Westminster in London but not in a bad way.
If you're interested you can go on guided tours of the building and learn about what goes on inside.