If you're looking for hotels overlooking Edinburgh castle then you're probably aiming for a vacation that's just a little bit special.
With a view over that amazing skyline this is going to be a trip to remember – but which hotels overlook Edinburgh castle?
Edinburgh is always a favourite city of mine. We recently visited the city on a special anniversary celebratory trip and to make it a more first class experience I really wanted a room with a view of Edinburgh castle. Honestly, it was the best thing we did and our room really made our Edinburgh break amazing.
Not got time to read the article? The Apex Grassmarket Hotel is my top choice for great views, an excellent location and a reasonable price.
So, if you're also looking for romantic hotels with an Edinburgh Castle view or just somewhere to have a really memorable trip then take a look at these beauties, including more details on the one we chose.
Oh, and *spoiler alert* our top choice is also a great budget hotel too so you can have the views without breaking the bank.
I have included options for all budgets here so for that special trip, whether it's a honeymoon, anniversary or just a romantic break you'll get the best views of Edinburgh castle from your hotel bed.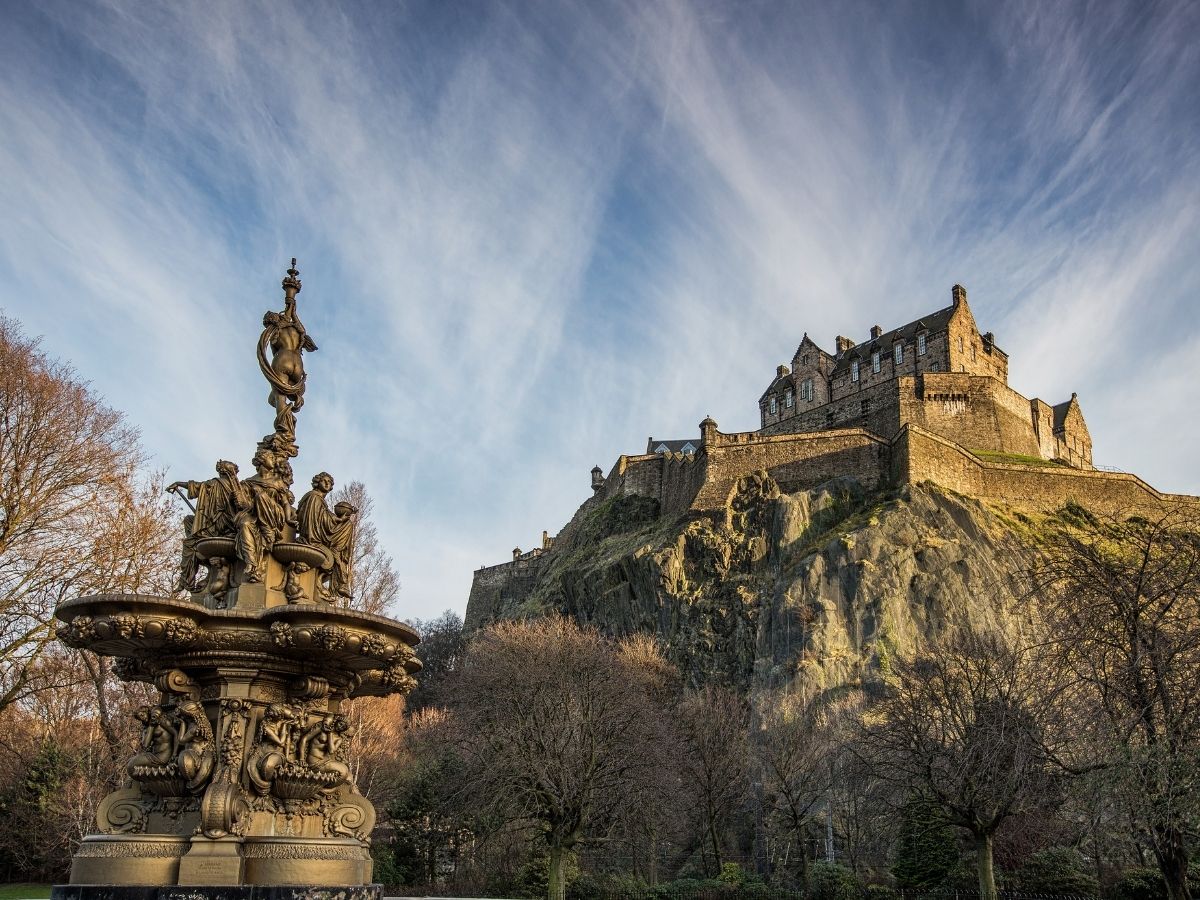 8 gorgeous hotels overlooking Edinburgh Castle
All of these hotels have Edinburgh castle views but not all of hotel rooms will have the perfect view. If you're wanting that special vista you'll need to either make sure it states castle view when booking or request it direct from the hotel.
This was our choice of hotel for our Edinburgh Castle view! And honestly? We loved it!
The view was just stunning at all times as you can see from our picture above. You lay in your bed and could just stare out at the castle – what more could you want?
The Apex Grassmarket is a chain hotel, but it really felt like a good quality place to stay.
Rooms had all of the normal conveniences you'd expect- tea/coffee and a tv but also had a fridge which meant we could grab some cold food like yoghurts for breakfast and eat them in our own time. (I hate having to get up early to go for breakfast in hotels!).
At the base of the hotel there is a restaurant for your breakfast and meals. You can choose to book your room with or without breakfast, whichever you prefer.
There is also 24 hour room service available. Also as part of the hotel is a gym and swimming pool.
Tip – there is another Apex hotel, their City of Edinburgh hotel, just a few doors down the same street so don't get them mixed up as I did when arriving in Edinburgh!
Which rooms to book? If you want a castle view you'll need to make sure that you book it as some of the rooms overlook different areas. You can go for the castle view superior room or for a deluxe room which also has a balcony. We just had the superior room.
Castle view rooms from £150 per night.
Next we have the Waldorf Astoria Caledonian which is situated on Princes Street towards the west side and has a view of the castle from the other side. It's ideally situated, being close to Dean Village, Princes Street and still only being about a 10 minute walk to the Old Town.
If you're wondering about the history of the hotel – it was once part of Edinburgh's central railway station!
You would expect luxury from the Waldorf Astoria brand and you'll get it! The hotel and rooms are stunning and elegant and would be just perfect for a special trip to Edinburgh.
There are also a couple of restaurants for you to try – a fine dining experience and a more casual affair too.
Which rooms to book? The premier rooms are the ones with a view of the castle but check that they do specify a view.
You have a choice of twin, double and king size. The first picture above shows a King Premier Room. Some of the suites also offer views such as the pictured Sir Walter Scott suite.
Castle view rooms from £300 per night
Fo a super special break then I highly recommend checking out the 5-star Balmoral Hotel on Princes Street. It's an imposing building and has a tonne of history, and some more recent history too – JK Rowling stayed here when finishing the Harry Potter books!
Firmly in the upper price bracket this is a perfect hotel for a romantic getaway or a special trip. Your room will be the upmost luxury with an Italian marble ensuite, complimentary toiletries and of course all the basics too.
The hotel has a restaurant too for a fine dining experience and is easily in reach of both the Old town and the New town for a great stay in Edinburgh.
Which rooms to book? You can get a few different suites that will all have castle views. The image above is from their Deluxe Castle View Room.
Castle view rooms from £760 per night
The Old Waverley Hotel is situated on Princes Street and is a good option if you're coming to Edinburgh to do a bit of shopping! It's also great if you're arriving by train as it's just over the street from the train station.
As well as some of the rooms overlooking the castle, you'll get a stunning view of Princes Street, the gardens and also the Walter Scott memorial.
The hotel has a lovely restaurant which has views of the castle too and breakfast can be included when you book your room.
Which rooms to book? You'll want to get a room with a view of Princes Street – if a castle view is important then check with the hotel that your room will also see that too!
Castle view rooms from £130
Finally, if you like your city breaks with a side order of relaxation and spa access then perhaps the Sheraton Grand Hotel & Spa will be for you. It's situated in the west end of Edinburgh and has stunning views over the castle. It's only a 5 minute walk to Princes Street and really close to Edinburgh Castle too.
It has a gorgeous infinity pool, thermal spa, gym and fitness studios. You can also partake in health and beauty treatments too (although some cost extra). There is a modern restaurant on site and breakfast can be booked when you book your stay.
Which rooms to book? You'll want to get a Specified Castle view room – you can get either a double, twin or suite. Also there's an option to have the Club access which has the spa included.
Castle view rooms from £250 per night
Bonus – 5 more Edinburgh hotels with a castle view
And if that's not enough, here are some more hotels for you to check out:
🏴󠁧󠁢󠁳󠁣󠁴󠁿 Edinburgh Travel FAQ 🏴󠁧󠁢󠁳󠁣󠁴󠁿
Do I need insurance for traveling to Edinburgh?
YES! I always recommend people take travel insurance when exploring the world!
Check Travel Insurance Master for quote comparisons from different providers.
Do I need a car for visiting Edinburgh?
MAYBE – if you're staying in the city then you don't need a car at all. YES – If you're wanting to explore further afield in Scotland then a car is worthwhile.
I recommend DiscoverCars to compare car rental prices in Edinburgh
How to book accommodation in Edinburgh?
For hotels I recommend Booking.com (and my favorite Edinburgh Hotel which is the APEX Grassmarket – hint: castle views!)
For apartments check out VRBO
Will my phone work in Edinburgh?
Perhaps – it depends if you have roaming enabled and beware this can be an expensive way to use your phone.
If you need a SIM for use in the UK I recommend GiffGaff which you can get and set up before traveling.
What to pack for Edinburgh
Keep yourself dry and comfortable is my motto for Edinburgh travel! A rain jacket and comfy shoes are a must.
See my post about what to pack for Edinburgh
Do I need midge spray for Edinburgh?
Edinburgh, as a city, doesn't suffer from midges. You might see them if you travel to the west coast or lochs in the summer months. Check out my guide to midges and how to miss them in Scotland.
What's the best guidebook for Edinburgh?
I really like the Lonely Planet Pocket Guides
Where to get flights for Edinburgh
Expedia is my first port of call for finding cheap flights to Edinburgh and Scotland.
Do I need a visa for Scotland?
Many countries don't need a visa for visiting Scotland as tourists (USA, Canada, Aus, NZ and Europe) – it's always best to check first though.
You might also like:
Pin for later!