Pemberley is one of the most iconic houses of the period dramas that Britain is well known for making. It is, of course, from Jane Austen's Pride and Prejudice and was the home of Mr Darcy.
If you're thinking about adding in a visit to one of these Jane Austen locations then you'll want to be exploring the North of England. In particular the Peak District is your destination where you'll find not one but THREE examples of filming locations that have been used.
I loved Pride and Prejudice and remember it fondly as a teenager when the BBC series was on the tv. As a young adult I had a bit of an obsession with period dramas and with Jane Austen too – I still enjoy them now!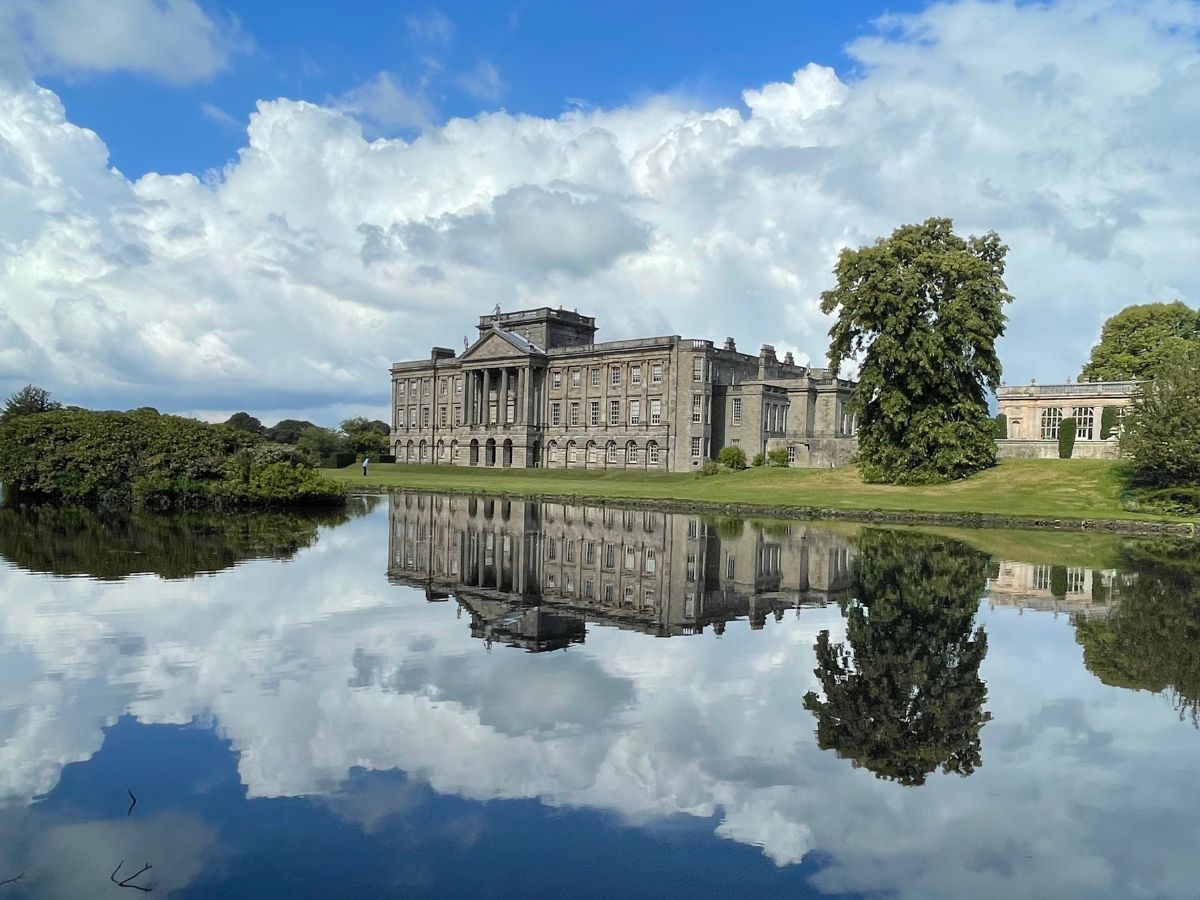 Pemberley, is also known as Mr Darcy's house although house feels a fairly ordinary word when you come to see what a building these are. If you've read the books or watched the adaptations you'll know that Pemberley was talked about as a very grand place indeed! These stately homes rival castles!
I'll be talking about three of the filming locations for Pemberley here. The first is Lyme Park which was used in the BBC's Pride and Prejudice tv series (the one with Colin Firth as Mr Darcy). The second is Sudbury Hall which was used for the interior of Pemberley in the BBC production.
The third is Chatsworth House which was Pemberley in the 2005 movie (with Keira Knightley as Lizzie Bennet and Matthew MacFadyen as Mr Darcy).
Pride and Prejudice Pemberley locations
Visiting with Dogs

If you're traveling around the Peak District with your dogs then you'll be pleased to know that all of these Pride and Prejudice locations can be enjoyed by your pups too!

We visited with our dog Annie – you are restricted to the outdoors of course, but you can still see a lot and have a great time too.
Lyme House
Location: Near Stockport, Greater Manchester. Postcode – SK12 2NR
Be aware when searching for this on Google Maps, it sometimes will bring up a place near Leek – this isn't the place you need. It's nearer to Manchester – see the map above and use the postcode. I nearly got caught out on our trip!
What was used in Pride and Prejudice? Exterior for Pemberley for the BBC adaptation in 1995.
If you're looking for the Pemberley from the BBC 1995 adaptation this is the place for you. It was made famous with the Colin Firth lake scene which I remember getting quite a lot of attention when it was aired!
It's always fun watching these things back after you've visited and seeing that you've walked where it was filmed!
Lyme estate was one of the highlights of our Peak District trip for us and we were lucky enough with the mornings weather to have a good walk around and enjoy the gardens (although the heavens opened on us as we left – got soaked getting to the car park!).
You don't need to go far to enjoy the areas that were filmed including the Italian gardens and the orangery (which you can see in the background as Elizabeth is talking to Mr Darcy). The courtyard that is used when she's rushing to leave is also where you walk through to enter the estate.
The house has a wonderful lake next to it (not the one where Darcy strips off though – but it is where he walks back and sees Elizabeth) which provides some gorgeous photo opportunities with the reflection. I could have stayed for ages taking pictures! It's a haven for artists too.
We didn't explore inside as we had our dog with us but there's a number of rooms inside that house interesting collections about the owners of the house. The interior of Lyme wasn't used as Pemberley though, that was Sudbury Hall (see below).
Lyme is a National Trust property and is free to members (you might like our post on whether NT membership is worth it) but is also fairly inexpensive for non members too. If you're with a dog like we were you can choose to just pay for the gardens.
See more information about visiting here.
Sudbury Hall
Location: near Ashbourne, Derbyshire. Postcode – DE6 5HT
What was used in Pride and Prejudice? Interior for Pemberley for the BBC adaptation in 1995.
The interior that was used in the 1995 series wasn't Lyme House but was Sudbury Hall. It has a huge grand hall that we see Elizabeth Bennet wandering around with her aunt and uncle.
Sudbury Hall can be visited although it's a primarily children's museum now. You can still get to see the stunning interiors that wowed the filming location scouts back in the day though.
As well as the inside there's plenty to explore outdoors and dogs are also welcome on a lead there.
Sudbury Hall is a National Trust property so again it's free for members. Be aware that you'll need to book your visit in advance here, even if you're a member. See more information here.
Chatsworth House
Location: near Chesterfield, Derbyshire. Postcode – DE45 1PP
What was used in Pride and Prejudice? Exterior and interior for Pemberley for the 2005 movie.
The location for Pemberley in the 2005 movie was a much bigger and grander house than even Lyme was. Lyme was pretty impressive but as movies like to be bigger and better they went for the immense Chatsworth House near Chesterfield.
Since we used to live nearby I've driven through the estate of Chatsworth loads of times but we've never taken the time to go for a walk there until recently.
The estate is enormous and you could spend absolutely ages there!
If you want to just see Chatsworth from outside you can pay to just park up in the car park and walk around the grounds. This is a good idea if you have a nice day and need to stretch your legs. It's also perfect if you're on a budget because entrance to Chatsworth can be quite expensive.
You can also choose to visit the house and gardens or just the gardens (good if you have a dog – they are allowed there). The gardens are incredibly manicured and impressive and were used extensively in the filming of the 2005 movie.
Don't miss the farm shop as well for some local goods!
Chatsworth is well known for putting on amazing events so no matter what time of year you're visiting it's worth checking if there's anything on. For example at Christmas the house and gardens are all lit up and it's all very festive. When we were there in the late summer there had just been a summer fair which was closing up.
See their website here.
Useful Information for visiting these Pemberley locations
The Peak District is quite a large rural area in North England and if you're looking to visit all of these sites it's worth having a car to drive around. Public transport can get you to all of these sites but it can be a lot less convenient.
Discover Cars is worth checking to get the best deals around for car hire.
Manchester is a good starting off point if you're just wanting to visit Lyme House as it's fairly close by to the city.
If you want to stay in the Peak District then I suggest heading to either Bakewell or Buxton which are some of the larger towns in the area and which are quite central to all of the sites.
Check out Booking.com for hotels and accommodation in the Peak District.
Guided tours can be worthwhile if you want to get to some of these locations but you don't have your own transport. These two tours take in Chatsworth House from both Manchester and London:
Pin for later!