Can you imagine having a romantic meal in London, perhaps then seeing a show and then whisking away your partner to another part of the UK on a gorgeous overnight train? Swoon!
I love train travel in the UK and find the slow, meandering pace romantic in its own right. But overnight trains are something else. Transporting you to a magical place while you sleep? I'm sold!
These journeys would make a fabulous honeymoon, engagement or anniversary trip. Or if you're reading this around Valentines Day and planning an even better one next year – you can book this romantic break in advance!
There are two general areas of the country that provide overnight sleeper trains and both of them go from (or to) London. The main one that people think about is Scotland but you can also get a romantic sleeper train to Cornwall as well!
Read on to find out more about each of these romantic overnight train trips and more importantly how to book!
Useful booking info
Book early – It's really important to book your sleeper train journeys early. While booking platforms might show availability when you're in the planning stage remember that they might be just showing the upright seats as available. Not quite so romantic as the cabins!
You can book 12 months in advance for Scotland and 3 months for Cornwall.
Where to book
I recommend booking direct where possible – you can use the Trainline website, but sometimes it will just send you direct, especially if you want the upgraded sleeping options.
Caledonian Sleeper – for traveling overnight to Scotland
Great Western Railway – for Cornwall on the Night Riviera
Trainline – Good if you're returning by a regular day train or if you just want to book standard seats
Romantic overnight train trips in the UK
What makes these trips special, I think, is that you wake up in a completely different place from London. Watching the sunrise from the comfort of a luxury sleeping cabin is an experience to cherish!
I've concentrated here on taking the trains from London, but of course you can do the journey the other way allowing you to spend some time with the bright city lights of London as your destination!
Romantic sleeper train to Scotland – The Caledonian Sleeper
This is the one that most people think of when looking into sleeper trains from London. The difference in the starting point to the end destination is striking and there's nothing more romantic than watching the sun rise around the brooding Scottish landscape.
You actually have a few different destinations that you can choose from when planning a romantic train trip to Scotland so no matter your plans, your romantic ideas or your likes there'll be a destination for you.
The Caledonian Sleeper will take you to any of the following places (plus more stops available on each route):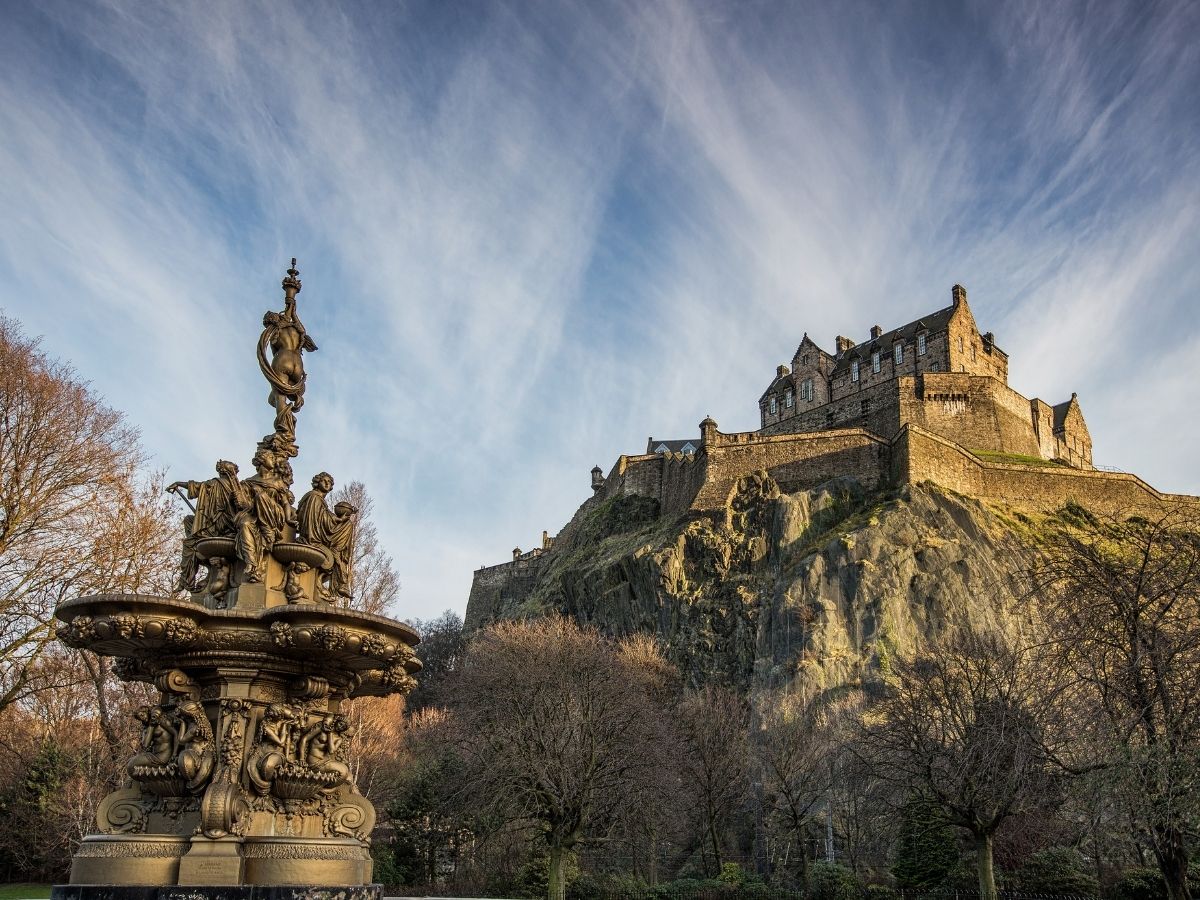 Edinburgh
Leave London at 11.50pm Arrive in Edinburgh at 7.30am
The capital of Edinburgh and while it's busy, it's still a lot less so than London. Perfect for finding some romantic spots or enjoying a hotel with a view of Edinburgh castle.
Romantic spots to take your partner include exploring the side streets off the Royal Mile, Dean Village or perhaps even taking a picnic to Princes Street Gardens.
Aberdeen
Leave London at 9.15pm, arrive in Aberdeen at 7.50am
Probably not on many people's radars as a place to whisk someone off to for a romantic break but if you're looking to stay away from midges in the summer then a trip to Scotland's east coast is a good idea! The Granite city has lots of romantic dining spots and places to enjoy on a night out.
There's lots of romantic ideas nearby to explore as well including Balmoral castle, the Speyside whisky trail or Dunnotar castle.
Glasgow
Leave London at 11.50pm, arrive in Glasgow at 7.22am
Glasgow is a city with so much to do and see so you'll never be short of ideas here. You have theatre shows, romantic restaurants and plenty of museums to explore too.
Inverness
Leave London at 9.15pm, arrive in Inverness at 8.42am
Inverness is just one gorgeous Highland option available and great for exploring the wonderful Loch Ness or maybe taking your partner around some of the Outlander locations up here.
You could even choose to hire a car and explore the remote and stunning NC500 road!
Fort William
Leave London at 9.15pm, arrive in Fort William at 9.57am
Another highland option and a great place to enjoy walks near Ben Nevis and many of the adventure sports that take place around there. It's a good jumping off point for many of Scotland's islands too, including the Isle of Skye.
Harry Potter fans will love to get on the real life steam train at Fort William which goes over the viaduct at Glenfinnan – yup the one from the films! The Harry Potter train in Scotland is another romantic journey in itself!
Recommended sleeping options for a romantic Scotland train trip
You have a number of options for sleeping on the Caledonian Sleeper train – the ones I recommend for a special trip are the Caledonian Double or the Club Room. These are the premium options and come with a host of extras such as en suite toilet, breakfast and lounge access.
Here are some points to note about the overnight train from London to Scotland:
The train leaves London from Euston station
The times are slightly different on Fridays and Sundays. There's no Saturday service.
They have a double cabin – perfect for the romantic overnight train trip!
You get lounge access at the stations where available with club room and double cabins.
Breakfast is available – included with club room and double cabins.
Cheaper options are available, including seat only
Booking tips:
You can buy tickets direct at Caledonian Sleeper or at Trainline.com
Train tickets and the rooms can be booked up to 12 months in advance – you may find that it's cheaper to buy well in advance too.
Railcards can make some journeys cheaper. Not all rooms attract discounts but some do on the more basic rooms and seated options.
Romantic overnight train to Cornwall from London – The Night Riviera
The other option for an overnight train trip, with a romantic edge, is to go to Cornwall in the far south west of the country. Think romantic coves, bracing coastal walks and intimate restaurants in Cornwall's historic fishing villages. There are loads of romantic things to do in Cornwall!
After leaving the bright lights of London you'll wake up and see some of the most beautiful landscapes and coastline of Devon before crossing the Tamar river at the historic Royal Albert bridge, built by Brunel in the 1800s, and going into Cornwall. You'll travel through the rolling countryside and hills of Cornwall before seeing the magnificent St Michael's Mount as you pull up in Penzance.
The train offers two different kinds of cabin – a single occupancy and a twin occupancy. There are also airline style seats that you can book. These aren't very comfortable though and not recommended for a special trip!
Here are some points to note about the overnight train from London to Cornwall:
The train leaves London from Paddington station
If you have booked a cabin you can use the first class lounge in Paddington from 9pm. Penzance and Truro also have lounges open an hour before departure. All have showers.
It departs from London at 11.45pm on Monday to Fridays and 11.50pm on Sunday. Arriving in Penzance at 8am.
Return journeys leave Penzance at 9.45pm and arrive in London at 5.04am. If you have a cabin you can stay on board until 6.45am
If you have booked a cabin you'll also get a light breakfast.
There is no Saturday service.
Booking tips:
You can buy tickets on Great Western Railway (GWR) direct or at Trainline.com
Train tickets aren't released too far in advance, around 3 months – the website states what dates you can book up to. It's advisable to book as soon as you can to get the twin occupancy cabins.
If the website only asks you what direction of seas you want then you'll know that there are no cabins available – try another night.
There is often a choice of 2 sleeper trains. One of them will have a change and is probably not what you want in the middle of the night/morning! Be sure to choose the one with no changes.
Railcards will often make the journey a lot cheaper. A Two Together railcard is what we use and perfect for romantic trips.
Pin for later!