If you can only spend a day in Edinburgh then this itinerary is for you. We'll tick off some of the most important sites that are on the lists of most tourists and make the most of the 1 day in the city that you have to spare.
Edinburgh is a fantastic city that I've visited countless times – often we'd spend just one day there as part of a longer Scotland trip so I'm well practised in getting the most out of a day!
Be aware that this trip involves a lot of walking – if you think you'll struggle you might find a hop on hop off bus can make your day easier.
Need somewhere to stay in Edinburgh? Our top tip for a great hotel is the Apex Grassmarket hotel where you can get this amazing view of Edinburgh castle from your room! We've stayed here and can highly recommend it – good even if you're on a budget.
Alternatively I recommend checking Hotels Combined which will compare Edinburgh hotels to get you the best deal!
Is one day enough in Edinburgh? Well, you'll definitely be able to enjoy the city more leisurely with more days to explore, but since the city is quite walkable, especially around the main sites you can get a good overview!
This 1 day itinerary for Edinburgh can be done at any time throughout the year. I've included some wet weather options for those days when it's against you. Best bet is to have an umbrella and get exploring!

In the winter be aware that it gets dark very early so be extra careful if you're traveling solo.
Morning:
Start at Waverley Bridge
Our day begins at Waverley Bridge which is just outside Waverley Train station directly in the centre of the city.
Walk out of the train station and you'll be greeted by wonderful views of the city straight away. If you've arrived early then this might be a great time to get some pictures of the views!
To the left you have the Old Town rising above you and to the right, the more logical street systems of the New Town. In front you'll see the Scott Monument to the side of Princes Street Gardens and in the distance is Edinburgh Castle.
Before you leave the train station area be sure to look behind you and check out the imposing Balmoral Hotel, one of the most impressive hotels in the area and known for being where JK Rowling finished her Harry Potter books.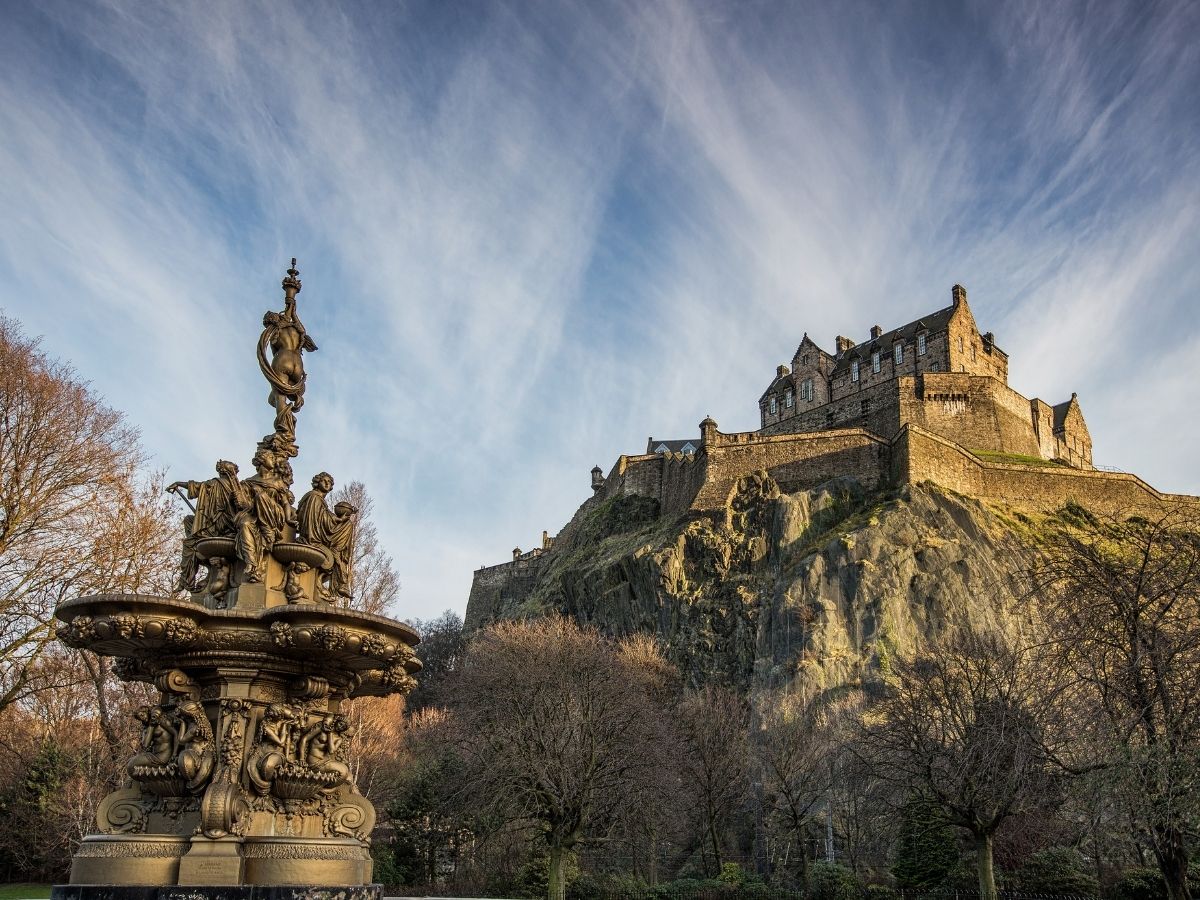 Edinburgh Castle
Our first stop of the day is Edinburgh Castle and the reason to do it first thing is that it can become really busy throughout the day. For the best experience it's definitely a good idea to get there early. The castle opens at 9.30am.
The walk up to the castle will take between 10-15 minutes, depending on your speed (I walk super slow!) and it's around half a mile. I recommend walking up Market Street and then Mound Place which will bring you out at the very top of the Royal Mile by the Camera Obscura and right next to the castle.
It's an uphill walk so take your time and be aware the roads and paths can sometimes be uneven due to old cobblestones.
The castle is really interesting to walk around and explore and you'll get stunning views too. Allow a couple of hours to take it in and visit all the exhibitions.
If you don't want to spend the money on the castle you'll find plenty to explore along the Royal Mile – here's our guide to some of the Royal Mile attractions around.
Remember that the One o'Clock Gun fires at 1pm (but not on Sundays and Bank Holidays) – if you're in the castle at that time it's worth watching it be fired, but if not you'll likely hear it go off anyway!
Tickets for Edinburgh Castle can be bought in advance and I recommend your do so.

You can get some that include a guided tour allows you to skip the line like this one or you can buy direct from the castle.
Walk to Grassmarket
As you leave the castle, walk a short way down the Royal Mile and turn right at George IV Bridge. If you have time and enjoy street performers you'll likely see a lot of them around here. Yes it's touristy but it can be good fun too!
After walking down George IV Bridge just a short way you'll find a curved street to your right – Victoria Street. It's one of the most photographed streets in Edinburgh and even more so since the rise of Harry Potter. It's apparently one of the inspirations for Diagon Alley and since JK Rowling wrote the first books in this area it's highly likely!
You'll find some cute shops down this street but take your time to explore it. At the bottom of this street you're in Grassmarket, one of my favourite areas of the city and where you can get some amazing pictures of the castle from another angle.
There are a lot of places to eat around here so keep an eye out if you see something you fancy – we'll return here for a lunch break.
Greyfriars Churchyard
Before lunch we'll explore Greyfriars Churchyard. It's a place with a tonne of history, some quirky and gruesome, some cute and some more recent. You can enter the graveyard at the bottom of Candlemaker Row.
I was first drawn to this place with the tale of Greyfriars Bobby – the little dog who was so loyal to his master that he stayed by his grave for years. There's a statue to the dog at the other entrance to the graveyard and you can see his grave too!
Others love the graveyard for its gruesome history and you can see where rich people have tried to fend off grave robbers by having mort safe. You can do tours of the place, even at night and if you like your creepy ghost stories this might be for you!
Harry Potter fans also come here to see the gravestones with familiar names such as Moodie, McGonagal and Riddle. You can just imagine that it's a part of the book!
The graveyard is free to look around and is open 24 hours a day.
National Museum – (rainy day option)
If the weather isn't on your side to enjoy exploring the graveyard then I suggest popping into the National Museum for a bit. It's just across the road from the Greyfriars Bobby Statue and is free.
You could spend hours there or just pop in and check out a small section!
Lunch at Grassmarket
When you're ready for something to eat I suggest heading back down Candlemakers Row to Grassmarket again. There's a lot of pubs, small independent restaurants, cafes and takeaways to try out. No matter your tastes or budget you'll find something to suit!
We ate at Mamma's American Pizza and can recommend it!
If you're traveling on a warm and dry day then why not head to Grannie's Green which is a small grassy bank to the West of Grassmarket and would be a perfect picnic spot beneath the castle!
Be sure to check out some of the plaques on the walls around which tell the history of this area – some is gruesome!
Also before you leave, check out Vennel Viewpoint which is just opposite Grannie's Green – it's a set of steep steps which give a great viewpoint of the castle (see picture above). A perfect Instagram spot!
Afternoon:
Walk Back towards the Royal Mile and explore some alleyways
Once you're finished eating wander past Victoria Street (that colourful winding street – remember?) and along Cowgate. It's not the prettiest street, but look out for a small alleyway on your left called Old Fishmarket Close which will lead us back towards the Royal Mile.
The lane is very narrow and steep and you can see towering buildings all around which are classic Old Town tenements.
There are many of these old alleyways in the Old Town, some with ghost stories attached, such as those at Real Mary Kings Close – if you have time and an interest you might like to explore this recommended attraction! Alternatively you could do a guided tour of some of the underground vaults.
If not just take a walk through Anchor Close Court which will take you towards Cockburn Street and back towards Waverley Train Station.
Climb Scott's Monument
Head towards Princes Street and the edge of the New Town. It's so much more open here and definitely not as claustrophobic as the Old Town. We're heading towards a large monument by Princes Street Gardens – Scott's Monument. It was built to commemorate the writer Sir Walter Scott and you can climb it for spectacular views all over the city. (Closed since Covid – hopefully open again soon)
Scottish National Gallery (rainy day option)
If it's a nice day you might be content to spend time in Princes Street Gardens or popping in and out of shops.
If it's raining you might like another indoor option and I'd recommend the Scottish National Gallery. Again it's free and it houses some amazing paintings by famous artists such as Monet.
Afternoon shopping in New Town
If you like your architecture then you'll adore the beautiful buildings of the New Town.
If you're not too fussed about architecture then you'll still appreciate some shops to explore and pick up a souvenir or two.
Princes Street and many of the streets off it are home to large chain stores that you can see all around the UK, although you can come across some gems.
I recommend going one street back from Princes Street and walk along Rose Street that has a tonne of smaller, independent shops and places to eat. Head west and we'll finish up at a quirky spot that so many people miss.
Finish at Dean Village
Our final destination for our day in Edinburgh is Dean Village. It's about 10 minutes walk from the West end of Rose Street that you were exploring before.
Dean's Village is a really quirky spot that looks very different to much of the rest of Edinburgh. It's a great place to get photos of the scenery, explore the small cobble lined streets and reflect on your day in the city!
I recommend you have a map for this last part – either from a guidebook or using your smartphone. There are a lot of small streets and it's easy to get lost!
Evening:
If you're spending the evening in Edinburgh then you have a tonne of choice for an evening meal and entertainment. If you're staying over in the city it might be an idea to stick to the area of your hotel to save your feet a bit – it's been a long walking day!
If you're heading out of the city then from Dean Village I recommend walking back towards Princes Street but walk back through Princes Street Gardens where there are plenty of benches for a rest and no traffic to worry about!
What next?

Check out hotels in Edinburgh – Booking.com
Check apartment rentals – VRBO.com
Check flights to Edinburgh – Skyscanner
Find car rental – RentalCars
Find Edinburgh tours and attractions – Get Your Guide