When looking for somewhere to stay in Yorkshire you'll be inundated with stone built cottages with pretty views. Awesome right? But what if you wanted something with a LOT more character? Somewhere unique, somewhere really unusual for your Yorkshire getaway.
Well, I've got your back there, I've been scouring some of the best vacation rental and holiday cottage sites to find some of the quirkiest stays around. We're talking castles, lighthouses, old courthouses and much more!
Whether you are just escaping for a romantic weekend or you're exploring Yorkshire and need a base for your time these options should definitely get your juices flowing and give you some inspiration to stay in Yorkshire! Let's check out some of the most unusual places to stay in Yorkshire…
These are my go to places to check out when looking for unusual places to stay in the UK:

Rural Retreats | Sykes Cottages | Holiday Cottages | VRBO | Airbnb
Unusual places to stay in Yorkshire – Airbnbs, Cottages and quirky stays
Galatea – Whitby Lighthouse Cottages
First of all we have this fantastic place to stay that is overlooking the North Sea on the Whitby Coast. As part of the lighthouse cottages you'll really know the meaning of peace and quiet out here.
If you're looking for a complete detox from modern life this is for you as there's no wifi at all and minimal phone signal. Perfect for a romantic getaway or just a unique stay away from work.
This cottage sleeps 5, no pets.
Book Galatea on Rural Retreats
Ground Keeper's Cottage – A Harry Potter Inspired Cabin
This is really somewhere unique to stay in Yorkshire – a cabin that looks like it was taken directly from the Harry Potter movies!
Stay in what can only be described as Hagrid's Hut on this farm by the North Yorkshire Moors. It's decorated in Harry Potter style with lots of quirky and individual details. Any fan of the books would love a stay here and kids would absolutely adore it.
It sleeps 6 in 2 bedrooms, no dogs.
You need to check out the images of this place – click below to see what it's like inside:
Book the Ground Keeper's Cottage direct
Chapel of Rock, near Harrogate
If you need somewhere unusual that can also accommodate a large number of people in Yorkshire then the Chapel of Rock might suit you. It's also dog friendly too.
You could probably spend an age just exploring the quirky decor of this place – it's something else!
It's a great location and nearby to some wonderful Yorkshire attractions such as Mother Shipton's Cave, Fountains Abbey and Brimham Rocks.
The converted chapel sleeps up to 10 in 5 bedrooms – perfect for a family gathering somewhere unique
Book the Chapel of Rock on HolidayCottages.co.uk
The Bailey Shepherd's Hut
I love Shepherd's Huts and this one is a stunning example of one in West Yorkshire near Skipton. It's right on the edge of the Yorkshire Dales so perfect for exploring there.
This is suitable for 2 people, a perfect romantic retreat in the Yorkshire countryside. It's fully equipped with a small kitchen, bathroom with shower and a wood burning stove.
Book The Bailey Shepherd's Hut at VRBO
Rural Shepherd's hut, North Yorkshire
If you like the idea of staying in a Shepherd's hut then you can also check out this fabulous one north of York and on the edge of the North Yorkshire Dales.
It sleeps 2 and has a roll top bath inside plus hot tub outside!
Shepherd's Hut – Airbnb
Scargill Castle, Teesdale
Ok this one is just out of Yorkshire but it's right on the edge of the Yorkshire Dales so I felt it was worthy of including. And it's a castle – who doesn't want to stay in a castle??
This is a wonderful property, renovated from a ruined castle – how romantic? The interior is fully modernised with some quirky touches to remind you of the history of the place.
It sleeps 2 in one bedroom, so no sprawling castle to get lost in. It's also dog friendly!
Book Scargill Castle at Rural Retreats
Draper's Flat, York
If you're after an unusual place to stay in York itself and somewhere to explore the city then you could rent this flat that overlooks York Minster.
Although modern in style inside, outside is a picture perfect image! The building was, as you might expect, a draper's. The National Trust gift shop is the original draper shop.
No dogs and no wifi at this stay but you'll be right on the doorstep to explore York which can't be a bad thing!
Sleeps 4 in 2 bedrooms. Right in the centre of the city so no parking either but great for public transport and rail travel, especially if you're traveling from London to York.
Book Draper's Flat in York at National Trust
Precentor's Court by York Minster
We have another option here for people looking to stay in the city of York. This is a gorgeous place to get a unique view of York Minster – I remember going there to get some fab pictures a while ago. I didn't realise you could stay there!
The cottage is actually bigger than you might think and can accommodate families and has 4 bedrooms sleeping 8 so could be used for a large family gathering too. It accepts pets as well.
Again you're right in the centre of York so if you're looking for something special for a stay there this could be right for you.
Book Precentor's Court on VRBO
Magistrates Chambers, Ingleton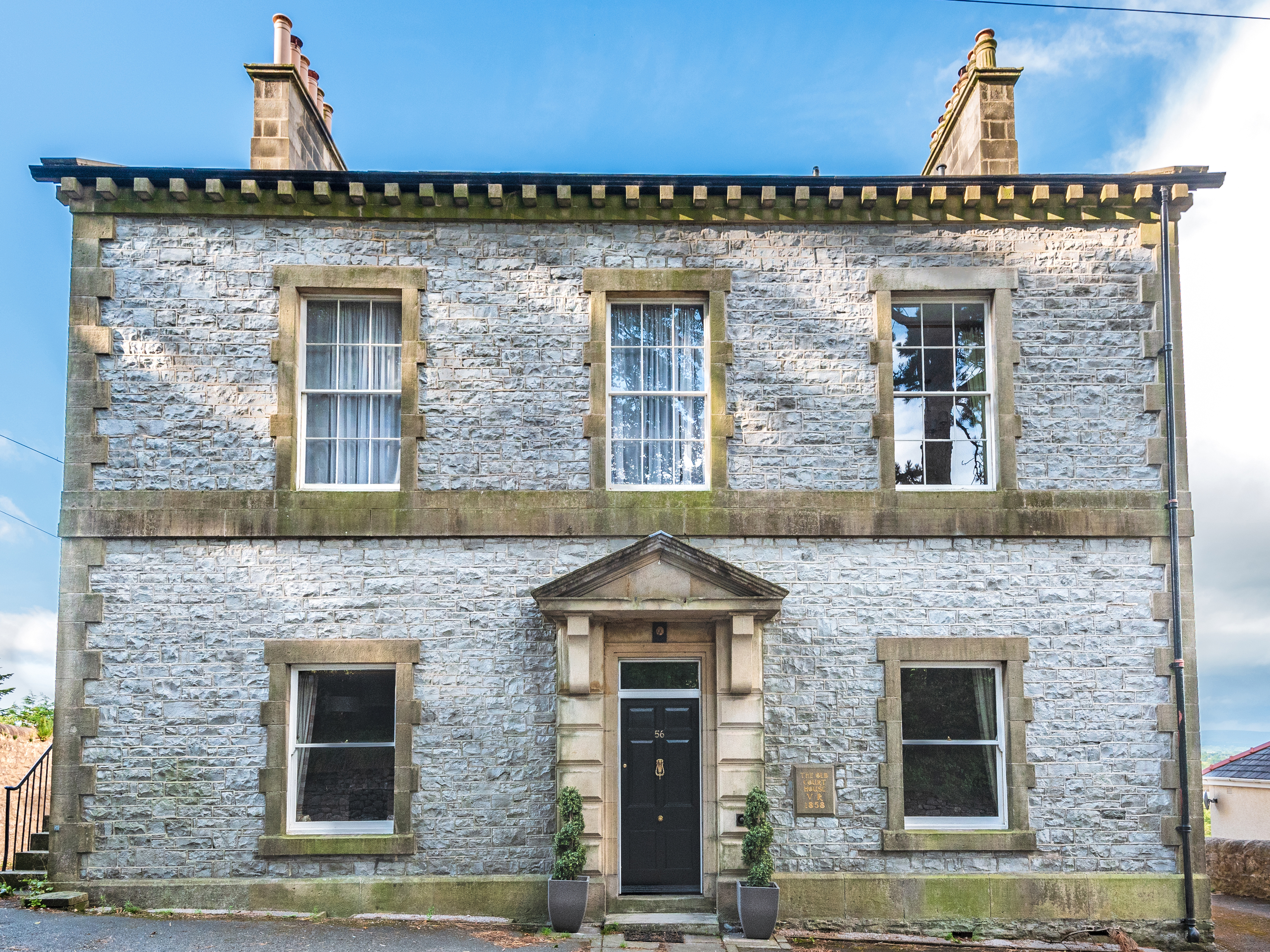 A former court house this old unusual building has an interesting history and dates back to the mid 1800s. It's been fully renovated now of course and is a real cosy home from home.
This property is located on the very West of the Yorkshire Dales so a good option to combine Yorkshire with the Lake District too – it's not far away at all.
The Magistrates Chambers sleeps 3 and the other wing of the property, The Cells, sleeps 3 as well. Could work well for 2 families who know each other to book together.
Book the Magistrates Chambers on Sykes Cottages
The Goods Wagon, Near Harrogate
There's so much history in Yorkshire and the railways were a big part of that. This property celebrates that and is right next to an old, disused railway line. It's actually a restored goods wagon and it's bursting with charm and interesting little quirks.
Set next to the Nidderdale Way, a long distance path of 53 miles. It's a great place to stay for walkers and those looking to go exploring in the countryside.
This wagon sleeps 2 and has one bedroom. For a larger place to stay there's also the adjoining 'Platform' which is set on what used to be the old railway platform and sleeps 4.
Book the Goods Wagon on HolidayCottages.co.uk
Igluhuts at Waingates Farm, Roecliffe
A really unusual styled cabin in the heart of Yorkshire. I've never seen anything like these fun igloo style wooden huts.
Outside you have a wood burning Japanese hot tub to enjoy and watch the sunset and stars as they appear. It's truly a one off place to stay!
There are 2 huts to choose from and they each sleep 2 and can also accommodate a dog too. They aren't suitable for kids.
Book Igluhuts at CoolStays
The Treehouse, Near Richmond
Really perfectly located for any Yorkshire trip where you want to explore all over. The Treehouse is actually a stone barn conversion but what makes this a unique place to stay is the fact the treehouse houses a wonderful hot tub!
It's really well done inside and a perfect place to get away from the stresses of life.
It sleeps 2, no dogs allowed.
Book The Treehouse at HolidayCottages.co.uk