When you're planning a trip to visit ancient sites such as Avebury Stone Circle you can just picture it – peaceful countryside, rolling hills and quaint English villages. So when planning, it's essential to get the right place to stay in Avebury or nearby.
I love exploring historical sites in England and it makes it so much nicer to have a place to rest your head that carries on that peaceful and spiritual vibe you get after visiting somewhere like Avebury Henge.
While the area and villages surrounding Avebury are small and therefore there's not always huge amount of choice, what is there is unique and would make a fantastic getaway to this heart of English countryside.
Accommodation in Avebury Village
If you've read my post about visiting Avebury you'll know that the stone circle is actually a part of the village itself. So if you want to stay in a stone circle in England, Avebury is the place to go!
There are a few options in the village itself but, as you can imagine, they can get booked up rather quickly. If somewhere takes you fancy then my advice is to either book early, be flexible or keep an eye out for cancellations.
Fishlock's Cottage
This is a cottage owned by the National Trust and it's located right in the stone circle. The cottage dates from the late 18th century and is beautiful with so much open space around it. You can enjoy the village views from the front garden with a hot tea or cosy up in the living room with its open fire.
Fishlock's Cottage is perfect for 2 people and is dog friendly too. There's a minimum of a 3 night stay.
From £710 for 3 nights – book on National Trust Holidays
Traditional thatched cottage in Avebury
A larger option than the previous cottage and just a few minutes walk from the stone circle. This is more suited to families (although not very young children) and definitely has the WOW factor. With beams, a wood burning stove, country kitchen and a beautiful outside space this ticks lots of boxes.
It sleeps up to 5 in 3 bedrooms and is dog friendly.
£99 per night on average – book on VRBO.com or Booking.com
Elderbrook House – bed and breakfast/hotel
Just 1 mile from the stones is Elderbrook House which has rooms available if you'd prefer a hotel experience on your stay in Avebury.
A shuttle service is available as is WiFi and room service. Rooms are either double/twins or there's also a family suite available too.
From £150 per night – book on Booking.com
The Lodge, Bed and Breakfast in Avebury
Overlooking the stone circle in Avebury is this Vegan and Vegetarian bed and breakfast option. Great for shorter stays where you would like at least one meal sorted for you! Bed and breakfasts are great to get to know and ask advice from the owners too and have a more personal stay.
From £200 per night for 2 – book on VRBO.com
Airbnb house in Avebury's stone circle
Finally, in the village itself, we have this entire farmhouse cottage to let within the stone circle again.
It's a 2 bedroom cottage that sleeps 4 people. It's very homely with enough room for everyone and large kitchen for self catering.
From £130 a night – book on Airbnb
Where to stay near Avebury
Of course when looking for Avebury accommodation, you don't need to stay in the village itself to enjoy the area and the countryside. Here are some options that are outside Avebury itself but in easy reach.
Penny Cottage, Lockeridge
Penny Cottage is a restored farm workers cottage just under 5 miles from Avebury and located in a gorgeous village called Lockeridge. The village itself is picturesque and has some wonderful nature around, including the sarsen stones stream at Lockeridge Dene and Piggledene.
It's a petite cottage which sleeps 2. Perfect for a romantic break away in the countryside.
From around £360 for 7 nights – book on HolidayCottages.co.uk
The River House, Durrington – luxury option near Stonehenge too
Here we have an option a little further from Avebury – around 20 miles away, but also incredibly close to Stonehenge, so if you wanted to explore the whole of the ancient landscape of the area it would be an amazing base.
This is a high end property and the River Avon flows right through the gardens. If you're looking for a special and unique holiday cottage near Avebury this is perfect.
It's a 4 bedroom property so plenty of space and lots of outdoor areas too. You're within striking distance of Avebury, Stonehenge and Salisbury.
From £1500 for one week. Book on Sykes Cottages or Booking.com
The Wiltshire Hotel, Royal Wooton Bassett
This hotel near Avebury is one for you if you appreciate facilities such as a swimming pool, gym, spa, and a golf course!
It's only about 11 miles from Avebury itself and it's in a really good location for exploring the area and for getting there from London since it's not too far from the M4.
Rooms from £55 per night. Book on Booking.com
The Lodge, Marlborough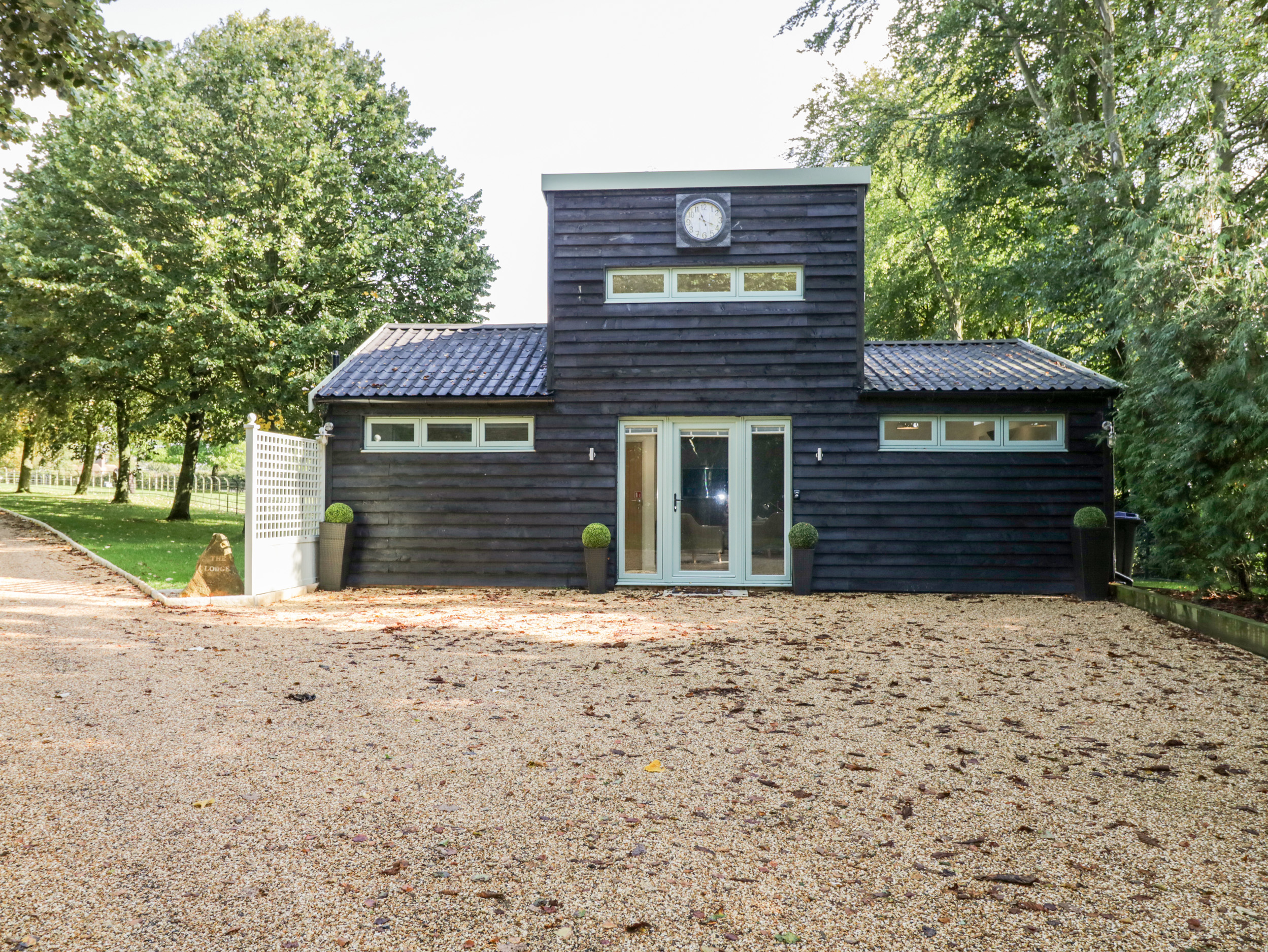 A renovated coach house just a short walk or drive from Avebury. This is suitable for families and those with dogs too.
A modern and clean interior, 2 bedrooms, large kitchen and of course all the appliances you need for a week exploring the countryside.
From around £500 for 1 week. Book on Sykes Cottages or VRBO.com
Campsites near Avebury
Camping is a great way to have either a more budget break or a more in tune with nature break – or both! The Wiltshire countryside has a lot to offer for campers and while there isn't a campsite in Avebury itself you do have a few options nearby.
Check out:
Postern Hill Campsite – camping in a forest, basic with no showers.
Highway Hill, Calne – glamping in shepherds huts and bell tents (no pets allowed though)
Bruce Arms – small campsite next to a pub. Has space for tents, campers/motorhomes and caravans